Wet & Dry VacuumsCarpet Extractors
---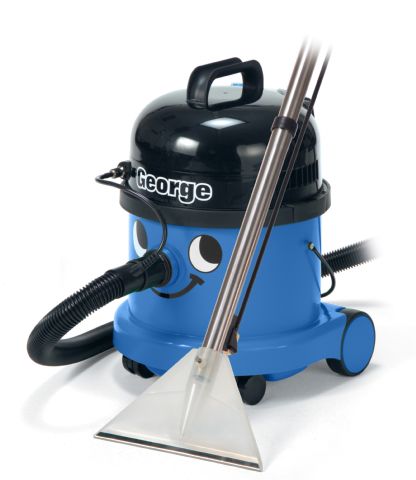 George GVE370
All-in-one vac. offering five cleaning options – dry or wet vacuuming, scrubbing & drying of hard floors, cleaning the carpets and upholstery. Powerful 1060W bypass motor and comprehensive accessory kit.
Technical Specs
Model:
GVE370
Power:
1060W
Capacity:
15L dry, 9L wet, 6L extraction
Airflow:
40L/s
Cleaning Range:
26.8m
Dimensions:
370 x 360 x 510mm (L x W x H)
Weight:
8.8kg
Filter Bags
604016 (packet of 10)
Standard Accessories:

601006 Extraction Tube Lower, 601008 Wand Straight S/S 32mm, 601009 Extraction Tube Bend, 601299 3.0m Cleantec Extraction Hose, 903712 2m Hose With Swivel & Cuff, 902071 300mm Floor Nozzle Assy (Single Slot Base Plate), 601141 Double Taper Hose/Tool Adaptor, 601144 Brush Dusting 65mm, 601147 Nozzle Upholstery, 601142 Tool Crevice 32mm, 601126 Tool Fishtail 32mm, 601827 Tool Floor GVE, 601225 Tool Upholstery 32mm, 601968 Trigger Valve Assy, 604165 Filter Tritex 305mm Including Grid

Other Information:
Available in blue only.
related products
---